There are several things you can do to prevent legitimate calls from being marked as suspicious.
In an effort to protect end users against unwanted calls, carriers, and consumer application providers have been increasingly blocking or labeling calls that they feel fit typical robocalling campaign characteristics, such as high call volumes and short or unanswered calls. When their own analytics indicate potentially unwanted traffic, carriers may respond by blocking calls or inserting "Spam Likely", "Telemarketer", "Fraud Likely", or other similar labels to display on the handset.
Unfortunately, there is very little Phone.com can do because we can't control how the carriers and other providers display caller ID information to their own customers.
The good news is that there are some things you can do to validate your number.
Set Caller ID Name
If you use Configure to manage your account:
Log in to Configure.Phone.com with your administrative credentials.
Click on the Company option in the left menu.
Scroll to the Caller ID Name field and make sure it is populated.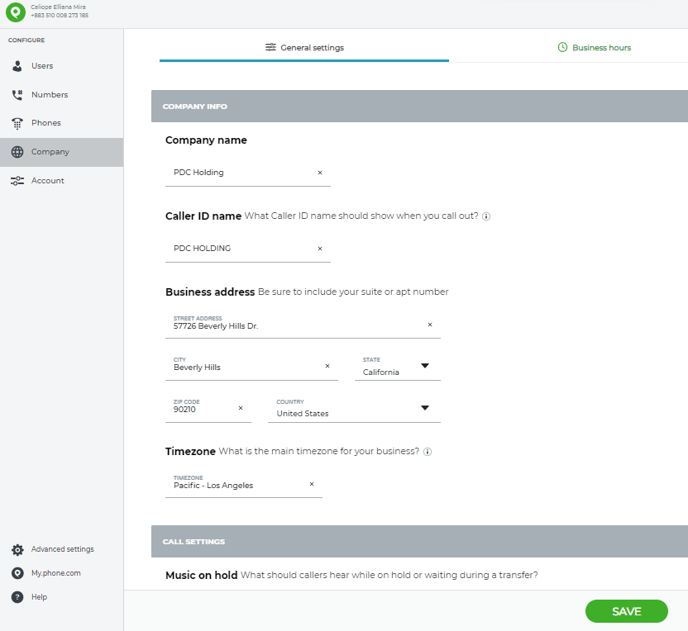 If you use Control Panel to manage your account:
Log into
Control.Phone.com
with your admin credentials.
Changing Your Extension Settings
Mouse over Configure and click Manage Users and Extensions.
Click Edit for the extension you want to edit.
Scroll down to Outbound Calls and select the phone number that you want to use as your caller ID from the drop-down menu.
Click Save Changes at the bottom of the page.
You've reset your outbound caller ID.
Changing Your Phone Number Settings
Mouse over Configure and select Manage Numbers.
Click Edit for the phone number that you want to edit.
Scroll down to Caller ID Name and enter the name (15 characters max.) that you want to display as your caller ID.
Click Save Changes at the bottom of the page.
You've reset your outbound caller ID.
Note: If Publish this number in the National Caller ID Name database is checked, the name that you set will be published to that database. Typically, landline carriers subscribe to the National Caller ID Name database, so when you call people who use those carriers, they will see the caller ID name that you've set. Cell phone providers generally do not use this database for their caller ID name services. Note that this setting can take up to 30 days to be included in all databases.
Register with the Free Caller Registry Portal

To ensure that your outbound calls aren't miscategorized as unwanted by downstream carriers or applications, we highly encourage you to proactively register legitimate outbound calling use cases using the Free Caller Registry portal.
Mobile carriers T-Mobile, AT&T, and Verizon together with their respective partnered Analytics Engines First Orion, Hiya, and Transaction Network Services (TNS) have set up this portal to allow callers to more easily register their traffic with all of their systems at the same time.

This registration portal may not cover other consumer applications responsible for call labeling or blocking.

Once you register and submit the required information via the portal, the Analytics Engines will vet it and follow up with you directly. If your request is approved, it may take a few days for changes to your phone number(s) to go into effect.

The registration process doesn't guarantee that your calls won't be blocked or labeled in the future, however, registration is intended to greatly reduce the risk of blocking or labeling.
Additional third-party registration options
T-Mobile also offers https://callreporting.t-mobile.com/ as a means to report improperly identified calls.


Customers of Phone.com can visit https://calltransparency.com/. Once there, the number can be registered and the requested information must be filled out. Once this information is validated by the website, this should reduce the instances of their number being labeled as spam or scam likely.


These are all third-party websites with no affiliation to Phone.com. Phone.com is not responsible for the use of or the results stemming from these sites.
More guidance from the FCC can be found in the Tips to Avoid Having Legitimate Calls Blocked.