Learn how to update your company settings such as company name, business address and more.
Configure.phone.com Admins
Control.phone.com Admins
FAQ's
---
Configure.phone.com


Administrators who use Configure will have access to setting the following via the company settings
Overview
The General Settings tab contains all the important areas that are considered account-wide and making any changes at this level will have a global effect on the account for you and all of your users.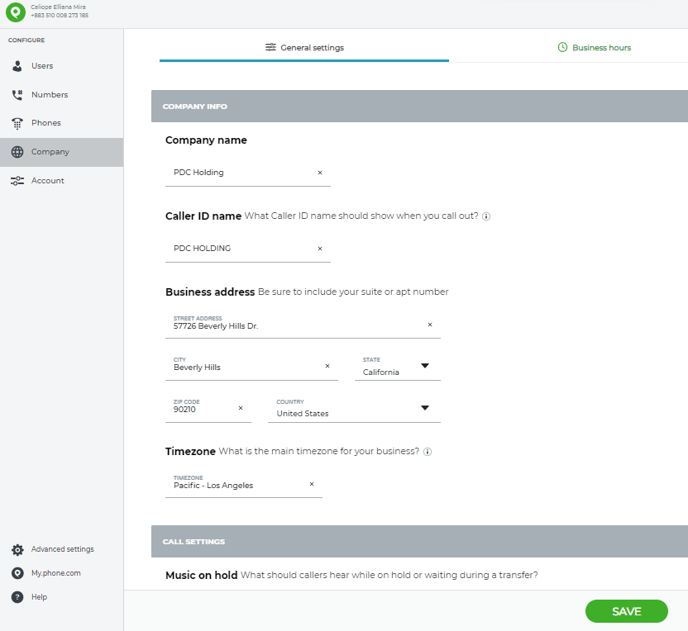 Company Name
The company name section allows you to change the name of your business within the account. Changing this field will have an effect on the company inbox which carries the same name as the business.
Caller ID Name
Your outbound caller ID is the phone number or name that people see when you call them. We are automatically setting your Caller ID to your Company Name. You can update your Caller ID if needed.
The name that you set will be published to the National Caller ID Name database. Typically, landline carriers subscribe to the National Caller ID Name database, so when you call people who use those carriers, they will see the caller ID name that you've set.
Note that this setting can take up to 30 days to be included in all landline databases. Generally, this does not affect cell phones. Cell providers use a different system to provide their subscribers with caller ID information.
Business Address
You can update your business address by making changes to any of the fields. Please keep in mind that the business address zip code is used for tax purposes and making changes to this section may affect your bill.
Time Zone
Set the main time zone for your business as this is used along with the custom business hours you may set to determine when your business is closed or open. Ensure it is correct.



Music on Hold
Allows you to choose from our hold music list ,record audio or upload a custom audio file that your callers can hear while on hold or waiting during a transfer.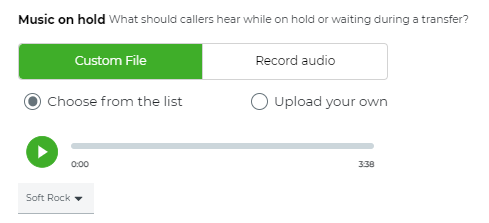 Recording Beep
You can opt in or out of having a audible beep play when you have call recording enabled on your number.

*Some states require this feature and/or a message informing the caller that the call will be recorded. Check your local state laws.



Company Inbox
With Phone.com, you get a shared inbox that all your employees can access and respond from. We call it the Company Inbox. It allows you to centrally manage everything that is going on.

You can create the greeting using text to speech which allows you to type out your desired message and choose and automated voice to read it, upload a custom fille or record your own audio directly from your device.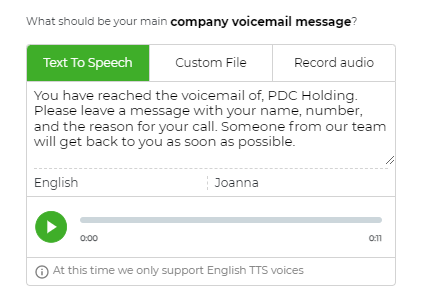 Video Meetings
Phone.com provides you with a secure online video meeting solution, that you can use on any device, and doesn't require installing any app, it works right off your browser. It's included for you with all your users.

With this feature comes the ability to create a custom meeting URL that you can share with your participants.



Business Hours
The Business hours tab gives you the power over when you are available to receive calls.

Choose open 24 hours to receive each and every call 24/7
Choose the custom hours option to set the days and hours you'd like to receive calls.

Pro Tip! Using the custom hours option allows you to set lunch hours. This means you can have uninterrupted time while you enjoy your well deserved lunch break.
In addition you can setup custom hours for major USA holidays. We don't have a holiday listed that you need? That's fine! You can specify dates along with frequency.

---
Control.phone.com
Administrators who use the Control panel will have access to setting the following via account information
Admin Name
Company Name
Administrative & Billing Address
Admin Contact Phone and Fax Number
Primary Admin and Billing Email Address
Secondary Admin and Billing Email Address


Overview
The account information/contact information page allows you to set your company name and address. These details will be reflected on your invoices. The zip code entered is used for billing purposes

To access the contact information page log into your Control panel. Navigate to the My Account tab. Under Account Information click on Edit Contact Info.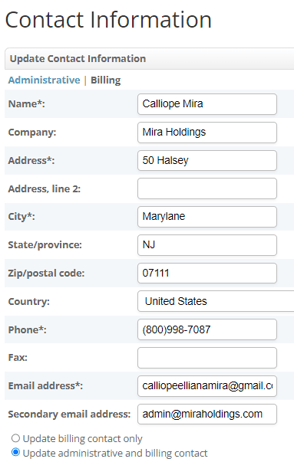 You can select to update only administrative or billing contact information.

Any information inputted only for the billing contact will affect the name and address that appears on your invoice.
---
FAQ's
Who can access company settings?
The company settings section is only accessible by the administrator of the Phone.com account.