This article explains how to order an IP phone or ATA device from Phone.com, as well as how to modify or cancel your order.
In addition to our flexible phone service, Phone.com offers a variety of IP phones and analog telephone adapters (ATAs) that let you place and receive VoIP calls using your Internet connection.
There are benefits to ordering a phone directly from us. Phone.com offers:
A 30-day warranty on all devices
Pre-configured devices for instant setup and use
Award-winning phone and chat support, 365 days a year, to help you get going quickly!
What Phones Do We Offer?
We have many phone models to choose from, but three basic device categories:
Desk Phones
These phones connect directly to an internet connection and are meant for desks and offices.
Conference Phones
These phones connect directly to an internet connection and are designed for meeting rooms.
Analog Telephone Adapters
These are used to connect a regular analog phone to your VoIP service.
Ordering Your Device
Ordering a device from Phone.com is easy.
If you would like help making your selection, or have any questions, give our sales team a ring at (877) 746-6310 and choose option 1. Our experts will help you get the right devices for your needs and take care of the ordering process for you.
If you prefer self-service, you can order devices using the Control Panel (Advanced Settings)
Log into the Control Panel using your administrator credentials.
Mouse over Configure and click Add an IP Phone/Adapter.


You are now on the
Select a device to order and then scroll down to the bottom of the page.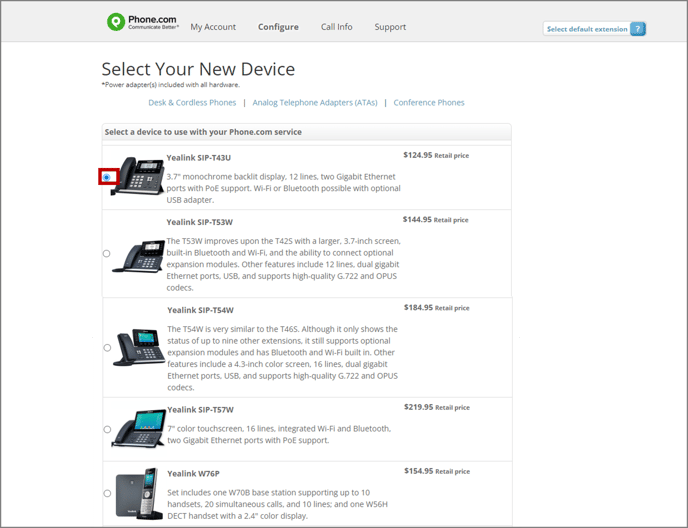 Choose to ship to the address associated with your account or enter a new shipping address. Select a shipment method.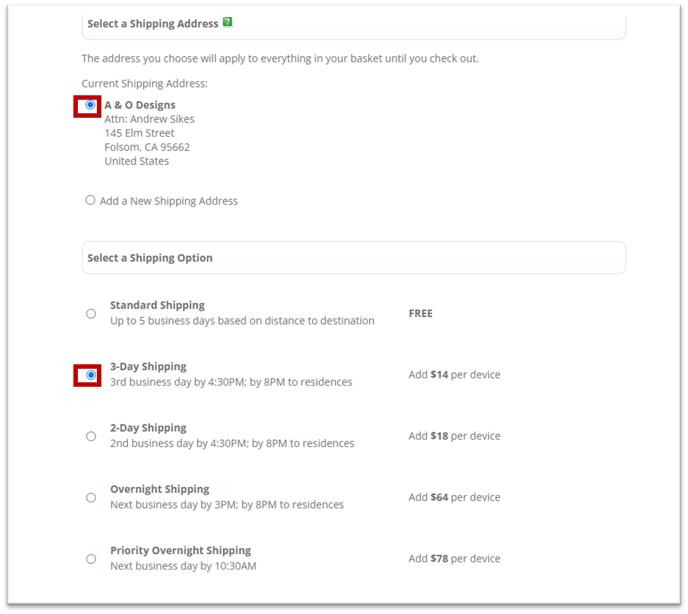 Click the Add Selected orange button at the bottom of your page.
Review your basket and click the Proceed to Payment button to complete your purchase.


Verify the payment method set up on your account, then click Confirm Order.
Your device is now ordered and will ship within seven to ten business days.
Modifying or Canceling Your Order
If your device hasn't shipped yet, you can change your shipping address or cancel your order.
Mouse over My Account and click Account Home.
Select View order status in the New Devices box.
To update your shipping address, click the Update Shipping Address orange button.
To cancel your order, click Cancel Order.