Meetings is the name of our secure video conferencing platform. With it, you can meet online with teammates or guests such as your customers, and conduct meetings to close a deal or provide support.
To learn all the features of our advanced Meetings app, see our dedicated documentation link below:
https://meeting.support.phone.com
If you use Configure.Phone.com to administer your account, Video Meetings is enabled for all users. If you use Control.Phone.com to administer your account, the administrative user must add meetings to a user or extension to enable the capability.

The number of users and the capabilities of video meetings varies based on your user plan. See here for a comparison.
Set Up a User in Control.phone.com:
You must be logged on as an administrator at Control.Phone.com to set this up for your employees.
Hover your mouse over the words 'Configure' at the top of the screen, in the submenu, click on the 'Manage Users' section of the 'Video Meeting' menu.
Choose the end-users extension number in the drop-down menu and then enter their email address.
Click on the Invite User button.
Once the invite is sent your employee will receive an email with directions on how to host meetings.
Now have your employee activate your account from within the email; they will need to set up a password.
Once a password is set the employee will be logged into their account. Please have the end-user bookmark this webpage for future use.

Your meeting URL will be your business name that was used in the setup part of this guide along with meet.phone.com/login appended to it. Example: https://acme.meet.phone.com/login.
Start and Manage Meetings
You can start and manage meetings by visiting your meeting URL or by choosing Meetings from the left navigation in My.Phone.com.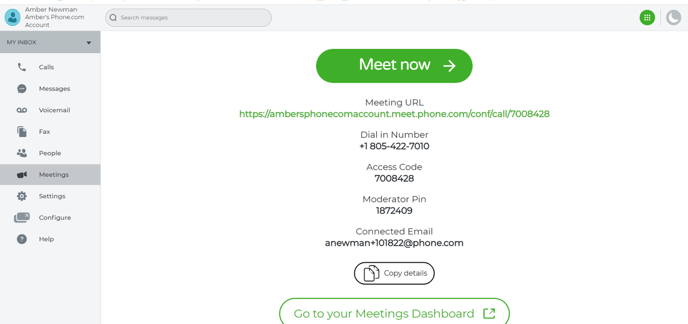 Visit: https://meeting.support.phone.com for details about:
Meeting moderation
Screen sharing & file sharing
Recording meetings
Meeting transcripts
Scheduling Conferences
Privacy & Security
and more ...