Deleting phone numbers is useful if a number is no longer needed; there is a need to replace it with a better suited number; or there is a need to cut down costs on monthly expenses.
Who can delete numbers?
Only account administrators can delete phone numbers.
What should I expect in my invoice after the number has been deleted?
If your account has been charged a monthly fee, then you will receive a prorated refund on your invoice after you delete the number.
Depending on your phone.com plan and number of users (for Plus and Pro users), your account includes phone numbers. If the phone number you deleted is within the total included phone numbers, then there will be no refunds added to your account.
Can I restore my previously deleted phone number?
You can restore the number deleted from your account within 30 days from the deletion date. Please note that a $10 DID Restore fee will be added to your account. Use the 'Restore button' on the Advanced Settings (Control Panel) to restore your number.
You can delete numbers using the Configure App or the Control Panel depending on how you administer your account.
Deleting numbers using the Configure App
Log into the Configure app using your administrator credentials.
Select Numbers from the left menu.
Click Delete Number from the options menu (three dots icon to the right for each number).
Confirm the number you will delete, and if all looks good, click Delete.
Once the deletion is successful, you will get the following confirmation message:
Delete Numbers Using the Control Panel (Advanced Settings)
Hover over Configure in the top navigation menu and click on Manage Numbers.

Click the trash icon next to the number you want to delete.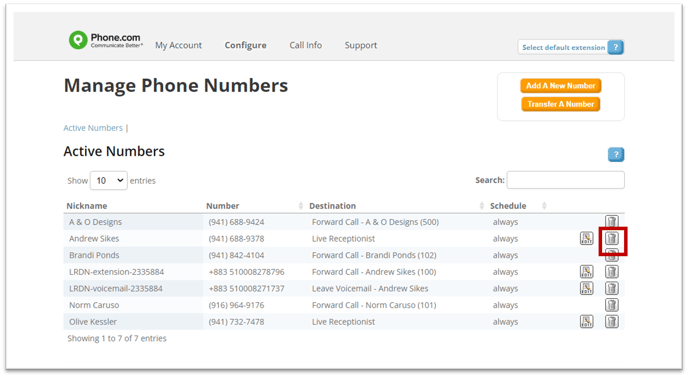 Issues deleting numbers
Temporary Numbers
If you have a temporary number on your account which has been added as a part of Transfer a number request, you will not be able to delete this temp number. The system will display a message to notify you about that.
In order to delete a temporary number, you will need to cancel the transfer request altogether by going into Advanced Settings / Configure / Manage Numbers, and selecting the Delete option next to the number you wish to delete. Remember this will cancel the entire transfer request.
Unsuccessful Deletion
If your deletion is unsuccessful for any other reason, wait a few minutes and then try again within a few minutes.
If you still cannot delete the number, contact support by selecting the Help option.