Add or remove numbers from the block list.
The block will protect your business from repeating spam calls. You can add any number to the block list and remove it from the list. The list is set up on the account level, which means that the blocked number will not be able to make an incoming call, send text messages, leave voicemails or send a fax to any of the phone numbers associated with your company account.
Block a Number Using Configure.Phone.com
How can I add a number to the block list?
Simply type it in, and click Block, or, if you see a spam voicemail or the like, highlight the number and click "block."
How can I remove a number from the block list?
Simply click X next to the number to remove it.
Only the account administrator is able to add and remove a number to the block list.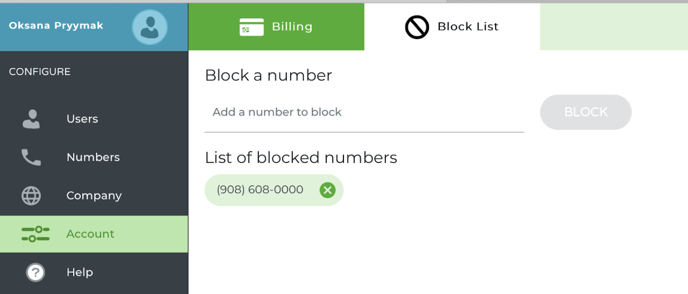 Block a Number Using More Services
The "Block calls" feature is only available for the account administrator. When your account users have noticed spam calls, they can ask the account admin to block the "From" number for that Inbound call. Simply click on the "Block" icon on Call logs screen:


​Or you can enter the number manually on the "Add blocked number" tab under the "Blocked numbers" menu item on the left navbar.
Block a Number Using the Control Panel (Control.Phone.com)
Log into Control.Phone.com, then choose Call Info and select Call Blocking.

Click Add a Number to Block to manually enter a number, or click the block icon next to a recent call.